The Founder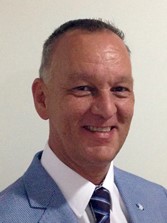 Roland Leijdekker is the founder of Leypex and has over 28 years of international experience in the aerospace industry. He's a dedicated, energetic, serious but humorous guy, with a huge drive to always successfully complete the biggest challenges.
Alright, enough about me in the third person. Now in brief who I am, what I've been doing, and what I do now:
I've always been fascinated by technology and everything that goes with it. That's why I studied mechanical engineering and worked for the past 28 years in technical and operational environments. Specialized in repairs, and repair and component development of aerospace and large industrial gas turbines.
In 1988, I started working for a large American company based in the Netherlands; As a shop floor supervisor. Quickly, I started progressing through the ranks within the global organization, in engineering and operational positions worldwide.
For 17 years, I worked and lived abroad. In 1996, my wife and I (no children yet in those days), moved to Thailand and I started working for the same company as the Director of Engineering. Bangkok was truly Southeast Asia in those days, pretty "scruffy" and hard to find a decent cup of coffee. Big experience to enter a for us unknown culture as a young couple, AND to start something completely new in a language we didn't manage (then).
After 7 years in Asia and with our second son on the way, we decided to move back to Holland. However, about 3 years later, we were asked to migrate to the USA. So we packed up our stuff, and left for the USA. I became the Managing Director of Precision Component Technologies in San Diego (USA), a unit specialized in the design and development of gas turbine components.
San Diego, what a beautiful place to be, with the best climate ever, close to the beaches, mountains, and Mexico. Working long hard days, but the reward of living in sunny southern California made up for it.
Exactly 3 years later, we returned back to Thailand. The company was growing steadily and they badly needed someone with more experience, knowledge and vision to run Operations. With over 500 employees, many new blue-chip customers, and a gigantic growth potential, we didn't want our staff to work harder, but "smarter".
So for 7 years, I was the Director of Operations, focused on the development and implementation of structural improvements through Operational Excellence and Lean, AND with fabulous results.
Then, after many years abroad, many experiences and cultures richer, and with our 2 boys in college, it was time to head back to Holland.
And here we are. We live in a time where knowledge is key. People are stimulated to study, do courses, etc.
But the knowledge required to succeed cannot all be learned from books. Gaining practical experience is equally important.
And that is WHY I started Leypex. I do have lots of practical experience in engineering design, development, repair and manufacturing, 3D modeling, how to improve the shop floor processes of technological companies, combined with all the theoretical "Lean tools". And I really want you to benefit from my knowledge, experience and expertise.
So HOW can I help YOU?
Simply ask yourself the following questions:
"Would I like to reduce my operational cost , and reduce Time to Market?"
"Would I get my product to market faster if I subcontract some of the engineering tasks?"
"Should I have my larger projects managed by a professional?"
If the answer to one or more questions is "YES", then please contact me a.s.a.p. Time is money. CONTACT
Also when you're interested to learn more about improvement opportunities, possibilities, training, coaching, etc. Please call or email me for a 1-hour free consult.